I scoured the web for hours researching just what to pack in the diaper bag. Here is my complete list! Feeding supplies and clothing/comfort items will vary per age/season, but I think it's a pretty comprehensive list– especially the index cards with important contact info and an extra set of keys just in case you lock your keys in the car or you leave your diaper bag somewhere.
I did some serious research on diaper bags and actually bought a Skip Hop Deluxe from Target. Then I read that the Target Skip Hops are of much lower quality than the official Skip Hop bags, so I took it back. I paid $30 at Target, but then found a 15% off coupon for Diapers.com. That combined with free shipping made the Skip Hop Duo Deluxe bag just slightly more than the one from Target and the quality is MUCH better. (Not to mention I found it in my favorite color!) The bag features 11 pockets, magnetic closures, clips to hook it on to the stroller, and a contrasting liner (THANK YOU SKIP HOP for SMART DESIGN!)
This is the diaper bag we bought
And here is my list:
The Ulitmate Diaper Bag List
Diapers (bring extra!!)
Diaper Cream/powder/lotion depending on your preferences
Wipes
Changing Pad/Mat
Hand Sanitizer gel/wipes
Burp cloths/wash cloths/cloth diapers/bibs
Extra set of baby clothes/socks
Feeding supplies (bottles, spoon, breast pump, sippy cups, food, whatever is age appropriate)
Blanket
Travel kit of baby care items, depnding on how long your gone—wash/lotion/brush/suction bulb/saline drop
Tissues
Pacifiers (if needed—pack two in a clean bag!)
Toy(s)/Teething rings, durable books
First aid – Tylenol, teething gel, allergy meds, bandaids, ointment, anti-itch cream, thermometer, sunblock, any prescription medications with dispensing spoon/syringe)
Nursing supplies- nursing cover/pads/nipple cream
Extra shirt for mom (just in case you leak or baby spits up!)
Carrier/sling, if you're using one
Sunglasses for you and baby
Sunhat or beanie depending on weather
Sweater/jacket for baby, depending on weather.
Small and large ziplocks or plastic grocery bags (for dirty clothes/diapers, to store clean pacifiers, etc.)
Bottled water and snacks for mom
Index cards: one with your name/phone number/sig other's name/phone number just in case you lose/leave your bag somewhere (I'll put "Reward if found" on mine!). The other with baby's name, doctor, contact info, and important health information or allergies to foods/medicines. An alternate contact (grandparent/neighbor/aunt/uncle)
Cash/Wallet/Quarters/Extra set of keys (in case you lock yourself out while getting baby out)/Cell phone/digital camera (good for taking photos of precious moments or if you're in an accident or fender bender!)
Of course, there is one thing that wasn't on my list, but found its way into my diaper bag: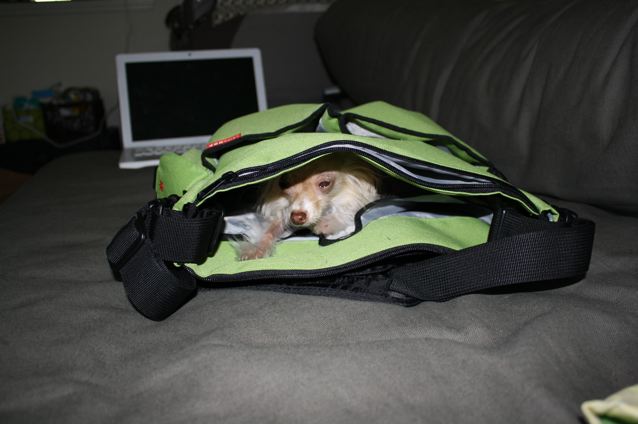 If any of you find this list is missing something, definitely post a comment! Hopefully this act of research and efficiency will help us all get out of the house faster!